HISTORIA DE FAMILIA DONDE ?
UKRAINE
Malyn District
GEOGRAPHICAL LOCATION
Territory - 1488 sq. km
Malyn District is one of the south-eastern districts of the region with the centre in Malyn which is situated on the river Irsha (a tributary of the Teterev) 103 km to the north-east from Zhytomyr, and 105 westwards from Kyiv.
The district borders upon Radomyshl District, Volodarsk-Volynskyi, Korosten and Narodychi Districts of the region, Ivankivskyi and Borodyanskyi Districts of Kyiv Region.
Considerable part of Ukraine's reserves of rubblestone and crushed stone is concentrated on the territory of the district on which basis substantial manufacturing capacities have been established.
Deposits of ornamental stones (granite, labradorite, gabbro) which are always in demand in the country and abroad are practically unlimited. A great part, 36 per cent of the district's territory is covered with oak and pine-tree, and leaf-bearing woods.
HISTORY

The territory were Malyn District is situated today was inhabited back in VIII-IX centuries. Scientists connect the name of the town with the name of Prince Mal, a legendary person of period of Kyiv Rus' who spearheaded the rebellion of drevlyans against Kyiv Prince Ihor in 945.
In lustratsia dated 1471 Malyn was referred to as a populated area owned by Ukrainian king of Nemyrychi.
In XVII century Malyn was granted Magdeburg Right, the right to self-govern the town.
In 1938 Malyn was classified as a town of district subordination.
Radomyshl District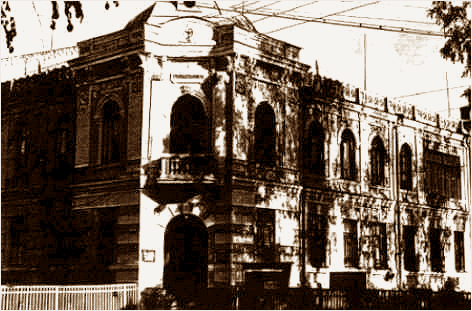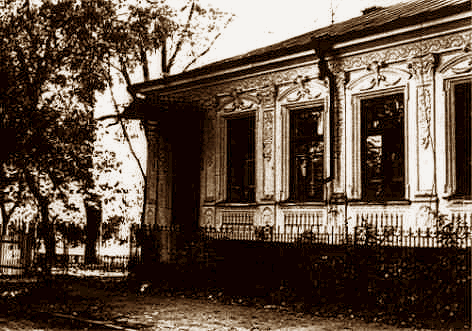 RADOMYSHL (until 1946 - Radomysl) is a town in Zhitomir region, Ukraine, located (latitude - 50o30'; longitude - 29o14') on the Teterev River 45 km northeast of Zhitomir, 94 km west of Kiev.
The town was first mentioned, as Michesk (or Myk-gorod), in the chronicles of 1150, which told about the victory of Prince Vladimir of Galich over Prince Izyaslav of Kiev. In 1362 it came under Lithuanian rule, and in 1390 it is referred to in a historical document as Mytsko. In 1569 it became part of the Polish Commonwealth, and from then it was called Radomysl. At the beginning of the 17th century Ukraine's first paper factory was established there. For a half a century the town was the residence of the metropolitan of the United Greek Church (1746-1795). With the partition of Poland in 1793, it was transferred to Russia, and became a district center of Volhynia (1795) and then Kiev (1797-1925) gubernias.
The Jewish community of Radomyshl was established in the 18th century. In 1797 it numbered 1,424 (80% of the total population), in 1847 - 2,734 and it increased to 7,502 (67%) in 1897. In 1910 Radomyshl had Talmud-Torah and five Jewish schools. The district of Radomyshl included the communities of Chernobyl (5,526), Korostyshev (4,160), Brusilov (3,575), Malin (2,547) and others. The entire region was influenced by the teaching of the hasidic rabbis of Chernobyl. In early 1900th Radomyshl had tanneries and flour-mills, and exported timber, corn and mushrooms.
In the spring of 1919 bands of peasants of the hetman Sokolovski organized pogroms in the Jewish communities of Radomyshl and neighboring towns. Hundreds of Jews were massacred and many others fled to the big cities. Under the Soviet regime, Jewish community life stopped and the town declined. In 1926 there were 4,637 Jews (36% of the total population) in Radomyshl.
When the Nazis invaded Russia (1941) all the Jews who remained in Radomyshl were exterminated. Six mass graves mark the murder of Jews in the vicinity. In May of 1945 soviet authorities tried to complete the victims list of Radomyshl. Later, Jews were prohibited from gathering at the graves, since the militia claimed that for them to do so was to cause "a demonstration". Jews were also forbidden to erect a monument to the dead.
Population of Radomyshl in 1989 was about 16,800. The Jewish population was estimated at about 250 (1970). Today Radomyshl has forestry enterprise, machine-building, flax-processing, brick-making, canning and furniture factories, caprone product plant, a dairy, a bakery and a brewery. It has a regional museum and a natural science museum.
DESPACHOS DE PRENSA SOBRE POGROMS EN RADOMYSHL
Russkiy Yevrey"
(The Russian Jew)
1882
No.2 (1882)
From Radomysl, Kiev gubernia:
On December 29 at village Krasilovka of our district, 30 local Jewish families, were victims of a robbery.
Their property was totally destroyed. Our constable Mr. Svitkin, arrived to the place of "pogrom". More details will be reported next time.
Kh. Potievsky.
No.4 (1882)
From Radomysl, Kiev gubernia:
I would like to inform you about some of the details about riots in Krasilovka. There is not difference between those riots and South Russian riots or the "pogrom" of Warsaw: smashed glass, broken windows and doors, pillow-down covered streets, etc. There is no difference also in the consequences for the victims and in other aspects. Only three of rioters were arrested.
They are in Radomysl prison now. Our constable Mr.Svitkin already came back from this place and is reporting horrifying details. It is unnecessary to describe the panic of surrounding Jewish population on hearing about Krasilovka's catastrophe.
Kh. Potievsky.
No. 5 (1882)
From Radomysl, Kiev gubernia:
As we know from newspapers reports, the last draft has completed successfully. All of the drafted Jews attended and were transferred accordingly. We cannot overlook the following phenomena, which under current circumstances of relations of Christians to Jews, is even more significant. The Jewish draftees will never forget the humane and unprejudiced treatment shown to them by the local military chief, Mr. Verkhovsky. While observing the letter of the law to the fullest, he nevertheless pitied the unfortunate position of the draftees, and where possible, he helped them. Thus more than a single family has seen it's members free again, more than a single mother has wiped away thankful tears because of Mr. Verkhovsky. Thanks to Mr. Verkhovsky and the constable's, not a single "l'gotniy" (draftees, who due to special or family circumstances were to be drafted only if the draft quota was not met) was drafted, and the draftees with large numbers thrown in the lots, were substituted accordingly by the draftees with lower numbers.
M.S.
No. 10 (1882)
Radomysl (Correspondence of "Russky Yevrey").
A fast - Subscription for the poor - the listing of Jewish property
Exactly 8 days ago, the Jews of village Makarov were fasting with all the details usually performed only on Yom Kippur, and today, February 11, the same fast was observed, with the exception of few details. Since the early morning and until noon, all Jewish shops were closed, not a single Jew was seen on the street. All prayed at the synagogues, sending fervent prayers to the Almighty asking to be shown his favor and be granted better life in present and future. The voices of the praying at the synagogues were heard together as a load moan, tearing at one's soul and filling the heart with heavy sorrow. While reading "slichot" and the Psalms, the moan became a mighty cry, and while reading the prayer "Avinu Malkenu" the men, women and the children were weeping.
In between the morning and the evening prayers at the synagogues, a subscription for the poor Jews of Radomysl, whom there are plenty, was conducted. The sum collected is as large as 2000 rubles, and it is a very large sum for a poor, unsupported Radomysl. It was agreed that a part of this money will be distributed as a one-time help, another part will become a loan capital, and the rest will be given to those wishing to immigrate from Russia. Let us thank our society at least for that.
In a few days, a census of Jews will be conducted, the purpose of which is to make known their movable and unmovable possessions. In the census the list of clothes will also be included. The clothes will be taxable, and it's sum is now being decided on by the local authorities. What is the purpose of such a census and such a taxation of men's and women's clothes, we don't know unfortunately, but any way it is desirable to specify what kind and cut of clothes will be taxable.
M.S.
No.11 (1882)
From Radomysl, Kiev gubernia:
On February 23 in town Korostyshov of Radomysl district, about 30 Jewish houses, mainly of poor Jews, were burnt. For so small a place it amounts to about 1/3 of all the town. This is desirable, that Jews from nearby towns would send there their contributions or simply bread for unlucky victims. Here in Radomysl, the contributions and the bread already are being collected.
Kh. Potievsky.
No.35 (1882)
From Radomysl, Kiev gubernia:
I would like to add to the information reported by me in No. 2 of "Russkiy Yevrey" this year about the Krasilovka's riots. On August 13 and 14 in Radomysl, the rioters from Krasilovka were tried by the Kiev district court. 12 people were tried, one of those is a woman. The defense attorney was Mr. Mikhalevich, and a prosecutor was Mr. Kupernik. After a lengthy period of debate, the jury has acquitted the woman. The rest were convicted. The court, after some discussion, came to the following resolution: Soloviev and 2 other instigators were sentenced to a military jail for 3.5 years, another 6 rioters sentenced for 3 years and two to a jail sentence: 1 for 1.5 year and another for a year. The first 9 were denied all their social rights and all have to pay the damages, with all of them having to cover for those of them unable to pay. The court allowed them to appeal to the minister of justice for a lesser sentence.
Kh. Potievsky.
Radomyshl
Business directory
1913
Midwives:

Grinshpun
Romashevich
Rybchinskaya

Pharmacies:

Kavenbach Fr.N.*,
___Director: Matkovsky Vladislav Alexander*
Geselsky Vasily*,
___Director: Kanoter Leib Moshko

Apothecary merchandise:

Gofman Iosif Lazar
Dudkin Morduch Duvid-Gersh
Kleinershekhet Vera Aizik
Rosenblat Avrum Gersh
Rosenblat Ovs. Iuda and Moshko-Yankel Gersh
Terebezhnik Avrum-Aria Itsko
Teselsky Vasily Vasily*

Groceries:

Averbuch Sura-Dvoira Meer-Simkha
Alperin Basya Boruch
Alpert Fanya Mordko
Banschik Moshko Avrum
Burstein Benzion Elya (and manufacture)
Belokrinitskaya Nechama Gershko
Weisbuch L.-I. M. (and haberdasher)
Verlotsky Boruch Ruvin
Vinnik Penya
Vinnitsky Duvid Mendel
Vinnitsky Morduch Itsko
Vinokur Khaya Ovs.
Goliona Ivan Kirill*
Dubinskaya Golda
Kaganskaya Khava Berko
Kagansky Yankel Volko
Komarovskaya Khaya Moshko
Komarovsky Boruch Shmul
Krichansky Avrum-Itsko Iosif
Krupnik Rivka Iosif
Ladovsky Moshko Boruch
Levitan Ita Gerts
Liberman Duvid Shmul
Lyubarsky Iosif Shmul
Markman Khana Yankel
Mostovaya Sheina-Beikha Berko
Portnoy Itsko Aron
Rabinovich Pesya Moshko
Radomyslsky Boruch Mendel
Rakhmelevich Sura Itsko
Sterman Yeina Shmul
Fedorovskaya Khasya Mordko
Fuks Shmul Ovs.
Khaskin T. Kh.
Shafirovsky Boruch Leib
Shafirovsky Shloma Boruch
Shafirovsky Elya Boruch
Sherman Aron Benzion
Shnitser Yankel-Leiba Chaim
Steinberg Chaim-Perets Tevel.
Elkun Aria Volko
Elkun Volko Gershko

Bakeries:

Dzyubenko Ivan Semen*
?edkovinskaya Vas. Rost.*

Wine:

Mazhbitz Benzion Liber.
Tsalyuk Boruch Shulim
Chubenko Mitry Michailo*

Wine stores No.158, 159.

Doctors:

Gorodetsky Yul.-Val. Stan.* (of town)
Lyubinsky Cesar Stan.*
Michailov N.N.*
Rodzayevsky Nik. Iv.* (of district, veterinary)
Savinov Iosif Dm.*
Zweifel Kas. Leizer (Jewish hospital)

Dentists:

Vollerner Lipa Yakov
Kagan Aron Boruch
Somakha Rosalia Iosif

Haberdasheries:

Bak Khasya Morduch
Berman Brucha Gershko
Birenberg Basya Morduch
Gorenstein Esther-Dina Mordko
Gokhveld Esther Abram
Litvin Nechemia Aron
Polinovsky Shaya Shulim
Rakhvalsky Avrum-Yankel Elya
Sagalov Iosif Morduch
Sinayuk Moshko Boruch
Terebezhnik Avrum-Aria Itsko
Chernyakhovsky Noach Benzion (and manufacture)

Ironware:

Vilensky Moshko Gershko
Gershenzon Baba Leib
Kotlyarsky Morduch Duvid
Morogovsky Michel Chaim
Skuratovskaya Reizya Tsalev.
Shapira Froim-Shmul Leib

Stone-masons:

Buzetti Severin Fortun.* and Diva Florian Karl*

Petroleum warehouse:

"Neft" Russian cooperative.
Nobel br.

Book sellings:

Zayezdny Elya Iosif
Pyatetsky Kh.A. & Co.
Futoryanskaya Lea Shmul

Tannery plants:

Bubis Itsko
Garbarev Georgy Nikolay*
Gorenstein Gorary Naftuly
Faibishenko Shmaya Yankel, Kanfer Chaim Shmul, Kanfer Shmarya Chaim
Yastrembovich Naum Vasily*

Tanning merchandise:

Kaganskaya Khaya-Feiga Tevel-Iosif
Kagansky Moshko Srul
Kislyuk Brucha Srul
Maloratsky Morduch Chaim
Ovrutskaya Rosya
Fridman Menya Chaim

Sausage:

Yanis Eduard

Credit Institutions:

Mutual credit Society
1th loan cooperative
2nd loan cooperative: Council chairman - Weinstein V.A.

Wood storage:

Dudkin Elya Duvid
Moroz Wolf Gershon and Rabinovich Mordko-Mendel Ruvin

Wood plants:

Moroz Wolf Gershon and Rabinovich Mordko-Mendel Ruvin
Revich Iosif Enk., Uchitel Noach Chaim, and Bubis Itsko
Frishman? Berko Iosif and Bardenstein Mordko Duvid, Mykgorod

Manufacture:

Baranovsky Elya Simkh.
Borodyanskaya Basya Alter
Borodyansky Ber Boruch
Budilovsky Shulim Nachman
Zilberman I.D.
Lipkina Lea Usher
Modylevsky Nuchim Shmul
Modylevskaya T.A.
Modylevsky David Berko
Morogovsky Usher Leib and Solomyannik Chaim Nuchim
Podgorskaya Brucha Shmul
Potiyevsky Chaim Srul-Khaskel
Rosenblat Rivka & Co., trust cooperative
Slobodetsky Nus Moshko
Spivak, brothers & Co.
Staroselskaya Rivka Menashe
Feldblum Srul Yudke & Co., coop.
Futoryanskaya Lea Shmul
Khandras Berko Moshko
Shabs Rivka Moshko
Shitsman Makhlya Moshko
Shmuzon Yuly Moissey, Shmuzon Nuchim Moissey and Kagarlitsky Duvid Menashe
Shmushkis Sosya

Butter:

Tsesiss Michel Srul

Room rent:

Vinnitsky Mich. Mendel
Grosman Basya
Mazhbits Sura
Nadgorny Peisach
Ostrovsky Perlya

Honey plant:

Distolyator Shimon (No.22; founded 1901)

Steam mills:

Averbuch M.A. Director: Vilensky V.Sh.
Grebelnikov Terenty Andrey*

Mechanical plant:

Kagan A.B. 50 workers.

Furriers:

Morogovsky Usher Leib and Solomyannik Chaim Nuchim
Spivak, brothers & Co.
Spivak, R. & Co., trust coop.

Flour:

Averbuch Moshko Avrum
Alpert Zisman Iosif
Vilensky Benyuma Sheftel
?ranivsky Chaim Iosif
Maryamchik Pin. Mordko
Maryamchik Charna Morduch
Nadgorny Benyum Peisakh
Nashkhen? Avrum Chaim
Polinovsky Moshko Duvid
Rabinovich Duvid Mendel
Rybak Itsko Khaikel
Skuratovskaya Reizya Tsalev.
Slobodetsky Moshko Nichim
Fuks Shimon-Chaim Ovs.
Cheskis ??? Alter
Elgort Gershon Kelman
Elgort Matus

Butcher merchant shopkeepers:

Goroy Dominiky*
Kaganovskaya Tylya Duvid
Rybak Simcha
Rybak Shmul Abram
Sapozhnik Chaim Leib
Skotland Aron Mordko
Khrulenko Natalya*
Shkidchenko Grigory*

Newspapers:

Radomysl paper of advertisements (biweekly newspaper)
Publisher: Zayezdny Elya Iosif, editor Shimansky K.F.
Price: 1 rub.

"Radomyslyanin" (3 times a week)
Editor-publisher Feldman Kh.M.
Price: 3 rub. (Sobornaya Square)

Brewery:

"Pilzen". Owners: Albrecht I.I., Velshan Ya.V. and Tayfert A.G.

Paper and writing goods:

Belokrinitskaya Nechama Gershko
Zayezdny Elya Iosif
Polinovsky Shaya Shulim
Pyatetsky Kh.A. & Co.
Futoryanskaya Lea Shmul

Clothes:

Eisenberg Pinkhas Elya
Gechtman Leizor Michel
Gechtman Sura Berko
Zagranichny Leiba Moshko
Men Khaya Avrum
Pyatetskaya Braindlya Moshko
Spivak, brothers & Co.

Juryman:

Bylina Iv.Zelis.*

Private jurymen:

Weinstein Wulf Abram
Gertzenstein Natan Alter
Podanovsky Iosif Iv.
Feldman Khonon Mark

Plates & dishes:

Abeleva Genya Aron
Gorenstein Esther-Dina Mordko
Chernyakhovsky Noach Benzion
Sheiner Iosya Ovs.

Restaurants:

Zhilinsky Iosif Iosif
Kailikh Yulius Ivan* (2)
Taifertu Adolf Genrich* (2)

Fish:

Nagorskaya Tsirlya Moshko

Agriculture machine:

Kagan A.B.
Kriger

Glaziery:

Levi-es Ovs. -in.

Textile plant:

Brenstein Iosif Yevel

Tobacco:

Spivak Sam. Iosif

Print plants:

Zayezdny Elya Iosif
Marzhbits A.L.
Pekar P.A.

Photographers:

Grzibowsky V.B.
Kaminsky Avr.-Moishe Boruch

Fruit:

Eisenberg Benzion Kiv.
Eisenberg Feiga-Rosya Moshko

Bread, grain:

Komarovsky Motel
Sitnyakovskaya Basya
Cheskis Ts.A.

Cement:

Dudkin Getse David-Gersh

Sewing machines:

Zinger Co.

Hats and caps:

Zheleznyak Tsirlya
Zheleznyak Sura
Nemirovskaya Rachla Abram
Sagalov Iosif Mordko (for women)

Asterisk (*) means the name is obviously not Jewish name.
This list may have any grammatic and other errors.

RADOMYSHL – INFORME SOBRE CEMENTERIOS JUDIOS

International Association of Jewish Genealogical Societies - Cemetery Project

UKRAINE

THE CEMETERIES "R"

RADOMYSHL I

: US Commission No. UA05670501.
Alternative names: Yiddish: Radomyshl, German: Radomysl. Radomyshl is located in Zhitomirskaya Oblast at 50º30' and 29º14'. The mass gravesite is located 1.5 km SE of the town in the woods near a pioneer camp, 400 m W of road to Kocherov. Population is 5000-25,000 with 10-100 Jews.
-- Town: Town Soviet, Chairman Kapranchuk Vladimir Petrovich, Lenin St., 12, tel.: (04132) 4-23-24, 4-42-06.
--Regional: Community Historical Monuments Security, Zhitomir, Mikhailovskaya St., 10a, Chairman Borisuk N.E., tel.: 37-08-07. Regional Organization of Community of Monuments Security, Sobornaya Sq. 12, Chairman Dukhnich Nila Vasilievna. Regional Dept. of Culture, 60 let SSSR St., 3, Director Skuratovskiy Vsevolod Mikhailovich, tel.: (8-232) 4-25-13. Historical Country Museum, Lenin St. 7, tel.: 4-30- 08, Director Strichenko Anton Ivanovich.
The Orthodox mass gravesite has no caretaker. The earliest mention about Jewish community is 1775. 1926 Jewish population (census) was 4,637. Affecting Jewish Community were 1919 struggles that killed more than 1000. Several thousands of victims of 1941 Holocaust. Living here were poetess Balyasnaya Riva Naumovna (1910-1980 and writer Velednitskiy Abram Markovich (1894-1959). The unlandmarked isolated wooded plain has no sign or marker. Reached by walking deeper on the wood, access is open to all. A continuous fence (2 metal and 2 wooden) with no gate surrounds. Several graves are of different sizes. 1-20 gravestones are in original locations with none broken or removed. Vegetation overgrowth is a seasonal problem that prevents access. The 1980s iron and labradorium, finely smoothed and inscribed stones with traces of paint on the surfaces and metal fences around the graves have Russian and Ukrainian inscriptions: "To fascists' victims 1941-1945". Some separate graves are dedicated to Holocaust victims. The site contains marked mass graves. Municipality owns the non-sectarian cemetery with about 3,000 mainly Jewish graves. The site borders woods and ex-pioneer camp "Lisova pisnya". Rarely, private visitors stop. The site never was vandalized since its creation. Stones have been erected or re-erected on the site by local municipal authorities in 1980s. No care. No caretaker. No structures. Moderate threat: vegetation overgrowth. Slight threat: safety, erosion, pollution, vandalism and incompatibility with prospective construction.
Leonid Kogan, Novograd-Volynskiy, Lenin St 107, fl. 42, tel.: (04141) 5-42-59 completed the survey 13 May 1996. Documentation: 16th May 1995 Letter of Radomyshlskiy Historical Country Museum, director Strichenko Anton Ivanovich. Other documents exist but were unavailable. He visited the site on 4 August 1998 and interviewed Skuratovskiy Vsevolod Mikhailovich, 60 let SSSR St, 3, tel.: (232) 4-25-13 (work).


RADOMYSHL II: US Commission No. UA05670502.
The mass gravesite is located in 1 km NW of town, 30 m S of road to Verlok, near mixed fodder production center. The unlandmarked mass gravesite has no caretaker. The isolated rural (agricultural) shallow gully has no sign or marker. Reached by turning directly off the road, access is open to all. A continuous fence with no gate surrounds. Current size is 30 square meters. No gravestones are visible. Vegetation overgrowth is a seasonal problem that prevents access. No gravestones or some gravestones have metal fences around graves. There are marked mass graves. Municipality owns site used only as Jewish cemetery. The site borders industrial area and the road to Verlok village. Rarely, private visitors stop. The site never was vandalized. Local municipal authorities made wall and fence repairs in the 1980s. No care. No caretaker. No structures. Moderate threat: vegetation overgrowth. Slight threat: safety, erosion, pollution, vandalism and incompatibility with prospective construction.
Leonid Kogan, Novograd-Volynskiy, Lenin St 107, fl. 42, tel.: (04141) 5-42-59 completed the survey 13 May 1996. He visited the site on 4 August 1998 and interviewed Skuratovskiy Vsevolod Mikhailovich, 60 let SSSR St, 3, tel.: (232) 4-25-13 (work). Documentation: 16th May 1995 Letter of Radomyshlskiy Historical Country Museum director Strichenko Anton Ivanovich. Other documents exist but were unavailable.


RADOMYSL III: US Commission No. UA05220101
The cemetery is located at 40 let Pobedy Street. The last known Khabad Hasidic burial was 1994. No other towns or villages used this unlandmarked cemetery. The isolated urban flat land has no sign or marker. Reached by turning directly off a public road, access is open to all. A broken fence with no gate surrounds the cemetery. 501 to 5000 stones, most in original location with 25% - 50% toppled or broken, date from 1910. Some tombstones have portraits on stones and/or metal fences around graves. The cemetery contains no known mass graves. Municipality owns site used for Jewish cemetery only. Properties adjacent are residential and garage. The cemetery boundaries are unchanged since 1939. Rarely, Jewish or non-Jewish private visitors and local residents visit. The cemetery was vandalized during World War II and occasionally in the last ten years. There is no maintenance now. Within the limits of the cemetery are no structures. Vegetation overgrowth is a constant problem, disturbing graves. Serious threat: vegetation and vandalism. Moderate threat: uncontrolled access and pollution. Slight threat: weather erosion, existing and proposed nearby development.
Kogan Leonid of Novograd-Volynskiy, Lenina Str. 107, Apt. 42 [Phone: (04141) 54259 ] on visited site 12/3/94. Interviewed was Press Rukhlya Nakhmanovna of Gorkogo St. on 12/3/94 and Motryushenko Ekaterina Antonovna on 12/3/94. Kogan completed survey on 12/04/199

4.
FOTOGRAFIAS DE RADOMYSHL
Ingreso desde Kiev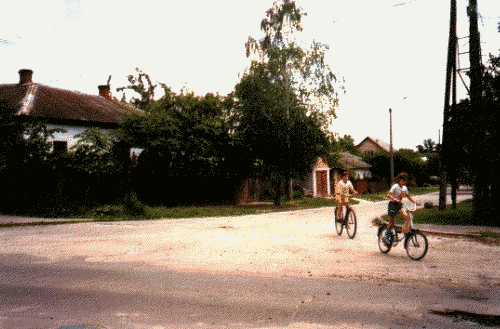 Calles del poblado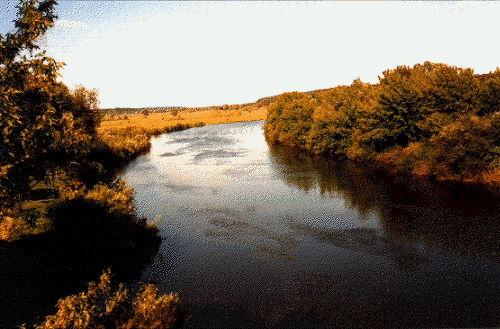 El Rio Teterev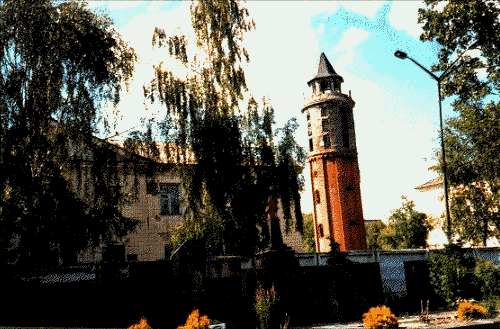 Foto del Monumento Memorial (motivo desconocido)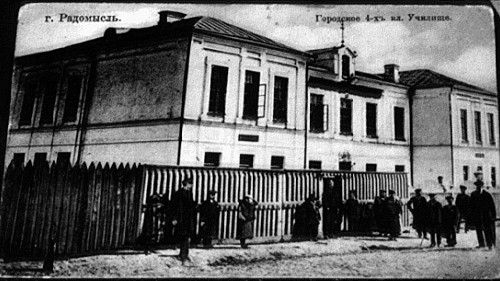 Vieja Postal de 1917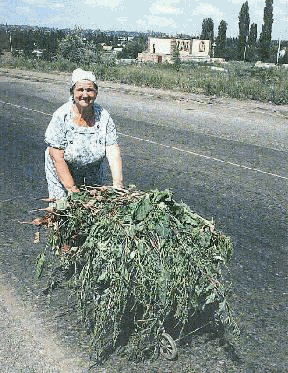 Baba con su cosecha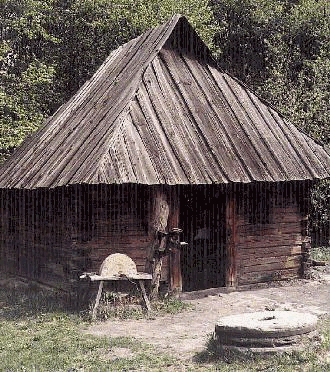 Herreria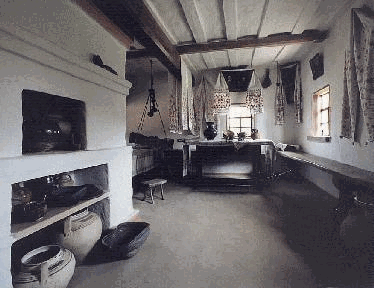 Interior de una casa paisana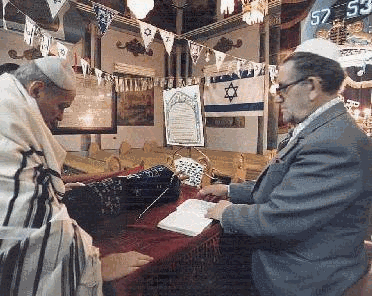 Servicio en una sinagoga
Poblado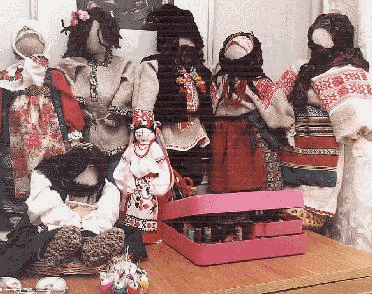 Muniecas tradicionales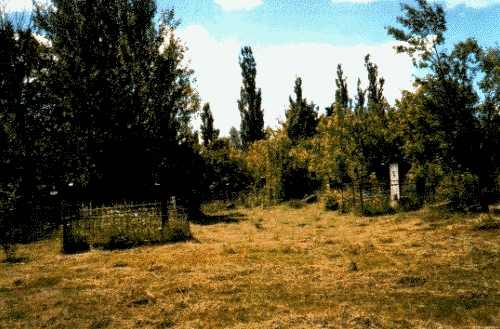 Foto Cementerio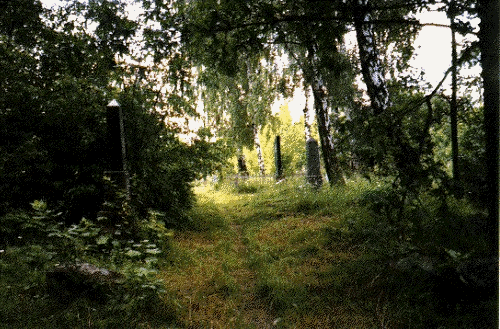 Foto Cementerio
Foto vieja lapida judia